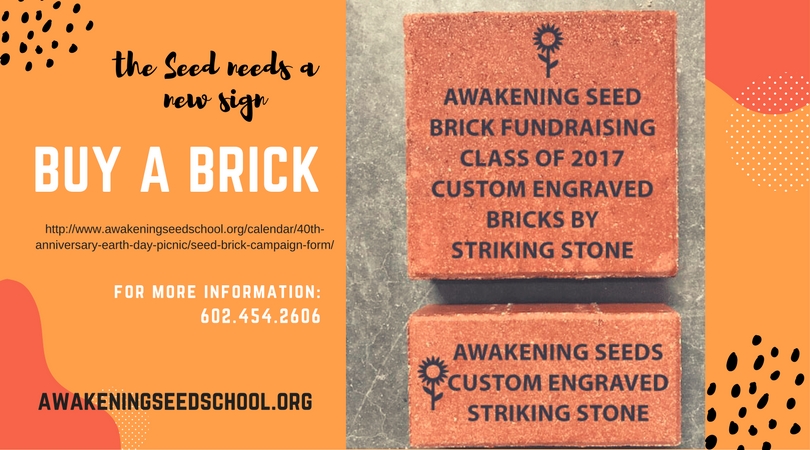 In 1977, a small school was born in the garage of a Tempe home.  That first tiny group of nine students has grown into a thriving, innovative school serving thousands of children and families throughout the Phoenix area for the past 40 years.  Over the years, Awakening Seed has remained true to its original mission of cultivating planetary stewardship, world peace, and social justice.
To celebrate the Seed's 40 years, we held a celebration on Saturday, April 22, which, appropriately, was also Earth Day.  One feature of the event was a brick campaign for a new school sign.
Sign Campaign
While maintaining our commitment to the Seed mission, the school continues to evolve in response to the times.  As we fiercely protect the sacredness of childhood through play in the natural world, we also strive to prepare our students for the technological future they will inhabit.  With that in mind, a year ago we developed a new website for the school that accurately portrays who we are.  In that same spirit, we are in the process of creating a new sign that fully expresses the essence of  the Seed.  To make this happen, we need to raise around $20,000 to cover the cost of the sign and our new brick walkway.  We need your help.
How You Can Help
There are several ways you can support our campaign:
Tell A Friend
Please help the Seed by passing this on to any and all Seed friends.  We are hoping for a big turnout for the celebration and we'd love to have you be a part of it.  Please call the school or send an email if you have any questions.