Friday, October 25th 5:30p-8:00p
Please join us for this year's Halloween Carnival!  This is the APA's chief fundraising initiative. All proceeds contribute to the scholarship fund, special projects, and classroom supply needs.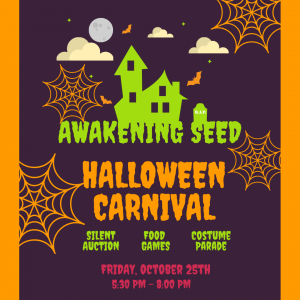 Important Notice
The Halloween Carnival is just 9 days away, and we are completely digital this year. There won't be any order envelopes or money exchanging hands at school. Admission, raffle tickets, pizza orders, food tickets, photo tickets (all the tickets!) are being sold online this year.
Click here to purchase tickets for all of your carnival needs.
---
Admission
Early-Bird Discount: Discounted admission for early-bird tickets through Friday, October 11th! Buy your early-bird tickets now!
Adults: $5, Children: $10 (children under one year free)
Regular Admission: Regular admission tickets can be purchased October 12th through October 21st.
Adults: $6, Children: $12 (children under one year free)
Gate Admission: You may pay for carnival admission at the entry gate on the evening of the carnival.
Adults: $7, Children: $13 (children under one year free)
---
Raffle & Silent Auction
Raffle Tickets: Purchase your raffle tickets for your chance to win over 60 prizes (and counting!). Share with family and friends.  Winners will be pulled throughout the night, and you don't need to be present to win!
Grand Prize Raffle: Visit the Happiest Place on Earth! Be sure to purchase your Grand Prize Raffle Ticket (just $10) for your chance to win TWO Disneyland One-Day Park Hopper Tickets.
Silent Auction: Starting October 21st, browse and bid on fantastic baskets created by each classroom, as well as more than 40 items (and counting!). All auction items will be displayed in the classroom hallway, and final bidding will take place during the carnival.
Donate to your classroom's silent auction basket now through October 16th.
Toddler 1s – Local Sports Teams
Toddler 2s – AZ Local Love
Early 3s – Gardening
Preschool 3s – Art/Sensory
Preschool 4s – Green and Eco-Friendly
PreK – Beach/Sea Animals
K/1st – Cooking
1st/2nd – LEGO/Building
3rd/4th – Camping
Grandparents' Group (G2) – Family Time/Games
---
Food & Tasty Treats
The Diner on Wheels: A fantastic food truck will be offering an assorted menu including hamburgers, cheeseburgers, grilled cheese, mac and cheese, hot dogs and French fries.  Cash or card payments will be accepted at the food truck.
Whole Pizzas: Order a large Barro's cheese or pepperoni (regular or gluten-free), or a Fired Pie vegan one-topping pizza, through October 21st.  After October 21st, Barro's pizza by the slice may be purchased using Food/Drink Tickets.
Food/Drink Tickets: Buy a Food and Drink Ticket Bundle ($5 for 5 tickets) to purchase pizza by the slice, popcorn, desserts and beverages.  We are doing our best to forecast quantities, but everything is first come, first served.  Unused food/drink tickets will not be refunded.
---
Fun & Entertainment
Photo Booth: Capture this special event experience by purchasing your Photo Booth Tickets.  For just $2, we will print and provide you with (2) 4×6 photos as keepsakes.
Games & Prizes: All children's admissions include access to over eight games, interactive alley, toddler bounce house, obstacle course, face painting, costume parade and more!