A Tradition of Creation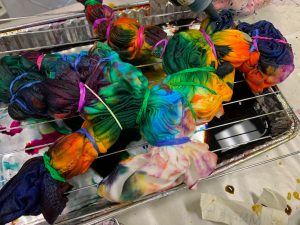 Tie-Dye Day is one of the most iconic, long standing, Seed events. Mary Glover, Awakening Seed Founder, has written about Tie-Dye Day and its layers of meaning for the past several years through her weekly blog posts (links included below). We wanted to share some pieces of her storytelling as we prepare for another Tie-Day Day. Our hope is to shed some light on the unique history and colorful importance this event holds.
How did Tie-Dye Day Come to be?
"It's a well-known fact that, over the years, the Seed has gained a reputation as being a "hippie" school.  Perhaps the most visible and long-lasting remnants of the hippie era are the tie dye t-shirts we make every year.  Although tie dyed shirts have been around the Seed since our first days in the late 70s, we got serious about the process around the turn of the century.  Fifteen years later, dyeing the shirts (and painting tiles) is a well-oiled machine. Each year is a refinement of the previous one." — Mary Glover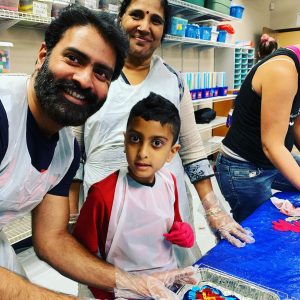 What is Tie-Dye Day?
It is a traditional event that marks the arrival of the fall season.  It is an opportunity for students and families to be artists, makers, and creators. Everyone is energized by curiosity and inspiration. It is a "rite of passage" into the Seed community, as we come together as a Seed family. It is a celebration of splashes of color, and exhale of creativity, and a burst of inspiration for the world to see.
What Happens?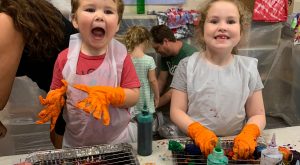 Families pre-order t-shirts to prepare for tie-dye. They also bring other personal items (crib sheets, pillow cases, bags) and tie-dye these. Children and parents work alongside each other, some veterans, some newbies, as they create a "surprise in a bag" that will be a visible representation of uniqueness, bravery, and strength. Don't worry if you aren't an expert! As you can imagine, several Seeds are, and they'll lend a hand!
Read More:
https://www.awakeningseedschool.org/2016/09/a-colorful-equinox/
https://www.awakeningseedschool.org/2015/09/a-colorful-rite-of-passage/
https://www.awakeningseedschool.org/2014/09/makers/