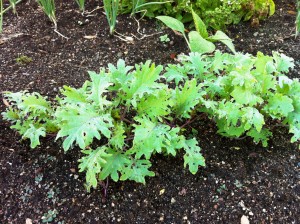 On my way to the downtown farmer's market recently, I passed a friend happily walking to her car listening to her iPod.  She paused from the music long enough to smile and state proudly, "I've got my kale!"  I love being a person with whom others get excited sharing kale news.  I've been on a mission about kale for some time now.  Here's the story.
In February, about three weeks before I was diagnosed with breast cancer, I received a call from my doctor's office with the results of my latest bone density scan.  The osteopenia I'd been wrestling with for a few years finally dipped into the osteoporosis range.  Nobody likes to hear that their bones are allegedly disintegrating, and I was no exception.  The immediate recommendation was Reclast injections, which I promptly refused.  It was a decision I made with absolute clarity.  Since then I've researched drug-free alternatives to osteoporosis and it's become an ongoing passion (some would argue that it's an obsession).  Over the summer, a colleague and I gave two workshops on a yoga-based approach to osteoporosis, which were both enthusiastically attended.  Our intention was to empower others to ask questions, educate themselves, and make choices based on more than just fear.  And yes, promote the nutritional benefits of kale.  About once a week now I find a newspaper article in my mailbox or a link to FDA updates on drug warnings.  It's starting to feel more like a small revolution, one I can wrap my mind around, a revolution that involves kale.
Kale thrives in this cooler weather.  It has thick, hearty leaves and rarely succumbs to frost.  Last year we had kale in our garden for nearly six months.  This year's crop tripled in size in just one week and I look forward to eating the fresh new harvest soon.  Growing kale is good for my bones and it's good for the planet.  I'm sure there are some in my immediate circle who'd love to say, "Enough already on the kale."  But it's more than just the kale and my own bones.   What kale represents is taking ownership of my own health and choosing a path that is respectful and kind to my physical body.  Kale is part of a decision to use my voice and stand up for what I believe.  It's a grown-up version of what we teach children to do every day at the Seed.  Kale is a reminder that we can take action, even in small ways, to change our lives.
This week I will bring some kale transplants from my home garden to the Seed.  Children and their teachers will nurture the small plants, which will eventually make it to their salads and cooking projects.  If even a few of the recipients (and maybe even a few of my readers) receive the benefits of this superfood, it will make me happy.  It's another way to quietly keep changing the planet, one kale plant at a time.