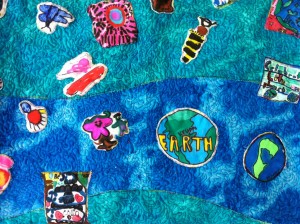 Saturday night I put the finishing touches on a quilt that's been in process for almost a year.  It started as an idea for our annual Seed Earth Day celebration and will reach its final destination by the end of the week.  The quilt has an additional special meaning in that it was created for the same day we dedicated Gwen's Castle last spring.  It's a work of art that came to fruition by many hands, starting with the children themselves and completed by several dedicated teachers.  It's truly a metaphor for the kind of inspiring beauty that comes forth when the village pulls together for a common cause.
This week's silent art auction is one of my favorite Seed events of the year.  It started off as part of the Seed Scramble, a golf tournament to raise money for the school's capital improvements fund.  After a few years, we scrapped the golf tournament and decided to just go with the art auction.  There have been few regrets about the decision.  Over the years, it's been fun to see the evolution and expansion of the art work.  We've always tried to offer pieces that were made collectively instead of featuring the work of individual children.  This year's collection is true to that original intention.  The various classes each created one or more pieces reflective of curriculum content around famous artists, favorite songs, or class studies.  Some pieces are large and others are quite small, all beautiful in their own ways.  This year, more than in the past, some of the staff have also included their art.
What I love about the art sale is that it exemplifies the kind of work that happens at the Seed in art and in other ways.  Although much of the children's everyday art is process oriented, especially in the younger classes, there is also a place for beautiful products.  In all of the group works, the children help make the paper, paint or draw parts of the final pieces, or add their touches to the canvas.  The teachers assemble the final products in the same way they organize studies, orchestrate learning events, and manage each part of the curriculum.  The art auction is loaded with visions of creative minds and it's always surprising to see what appears on the display tables each year.  Like the quilt, it comes together with the combined intention of dispersing Seed art out into the world and at the same time, supporting projects around the school that enhance everyone's experience.  On Saturday at 1:00 during the Seed picnic, the parents will do their part by bidding on the art they can't live without.  It's many hands coming together to keep a common vision well and alive.