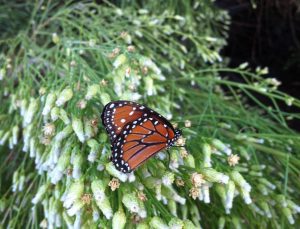 Tuesday morning I was out for my walk as the barely waning full moon was beginning to fade.  I thought of all the people on the east coast who were hit by the monster storm the night before and felt grateful that I was walking on dry ground under blue Arizona skies.  As I made my way along the canal, I noticed a monarch butterfly on the ground, so still I thought it was dead.  Looking closer, I saw that it was alive, although a small chunk of its back right wing was missing.  Then I noticed a tiny leg gripping something that looked like it might be the chunk of missing wing.  I carried the butterfly as I walked and eventually placed it carefully on a soft bush.  Later when I returned to the place where I left it, the butterfly was gone.  Even with a damaged wing, it evidently managed to fly.
As the day unfolded, so did the stories of Sandy's aftermath.  Images of submerged towns in New Jersey and flooded New York subway stations popped up on television and the Internet.  Pictures of rescue workers carrying elderly couples through waist high water and people being retrieved from their soggy homes in a backhoe bucket were memorable.  My friend from New York sent photos of the extremely high water under bridges and broken oak trees around where they live.  Another friend told me about her sister's flooded house on Long Island.  Their car was completely submerged and they, along with their neighbors, were all staying in the second story of their house because their first level was waterlogged.  The story that most caught my attention was the 20 newborns evacuated from the NICU at New York University's Langone Medical Center when the hospital's backup generators failed.   They were carried by nurses down nine flights of stairs to ambulances awaiting them for transport to other hospitals.  Some of the babies were on respirators and the nurses had to hand pump oxygen into their lungs.  All of the babies survived.
Thinking about the storm and the butterfly with a damaged wing reminded me of the resilience of human beings.  Storms come into our lives in all different ways.  Some spiral ashore from far out in the ocean and others are self-created.  They appear as a result of tragic events or emotions gone haywire.  Life's ever changing quality will always bring storms over which we have no control.  In the end, the only thing we have any control over is how we respond.  We all have storms that ask us to be strong like the nurses who carried those babies down dark flights of stairs.  How we decide to conduct ourselves lies in our own hands.  These times often leave us feeling devastated and broken.  However, even when our wings feel incomplete and and damaged, there is a way to find wholeness, a way to fly again.