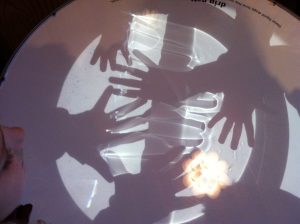 Over winter break we took a road trip to San Francisco with one of our daughters and her family.  While the other three adults attended the ASU bowl game, I orchestrated an adventure with my three grandchildren, ages, 8, 6 and 5.  They dropped us off at the Exploratorium, a hands-on learning center for kids of all ages.  The facility is loaded with activities involving electricity, the five senses, color and light, shadows, and physics.  They even have a deli that serves organic food.
After five hours of sensory overload, we headed out for the next part of our adventure.  Our final destination was Market Street, close to the football stadium.  The plan was to travel there via city bus and the famous San Francisco cable car.  Without much trouble, we found the appropriate corner to catch bus #30.  When the bus arrived, we hopped on and I realized right away that I didn't have the exact change to cover the $4.75 fare.  The bus driver  impatiently told me to move because I was standing in the way of his rear view mirror.  I moved and then said I didn't know how much it was.  This time he rudely responded, "I'm doing the math."  When I found out the cost, I started putting dollar bills in and realized that after two ones, all I had left was a five.  I put the five in and sat down.  Just a few blocks from where we started, the driver pulled the bus over and said it was the end of the line and we all had to get out.  When I asked for a transfer for the next bus, he snapped at me, "You only put in three dollars."  I said that the third one was a five, he barked, "Why did you do that?"  I told him it was all I had and he shoved the four transfers at me.
Following this transaction, we waited at the corner for the next bus.  I must have looked a bit shaken by the driver's treatment when a very kind man stepped up and said, "Don't worry, we'll get you where you need to go.  We're waiting for the same bus."  Within moments the bus arrived and we found a seat in the back, facing our new friend.  He was most eager to talk.  My grandson, who is the quintessential extrovert, immediately started asking him questions.  He had a talent for bird calls and whistling, so he kept the kids entertained the whole way to Ghiradelli Square.  He seemed like a "protector," one of those beings who just show up in your life to make sure things go smoothly.  I was deeply touched by his kindness.
Although our wait for the cable car took awhile, the remainder of our trip proceeded without a hitch.  The cable car was like a gigantic roller coaster, climbing up and descending San Francisco's hilly streets.  As we held on for dear life, it was a delightful memory we'll all hang on to for a long time. Part of that memory for me will be the kind hand that reached out to a grandmother and her three grandchildren on their adventure through San Francisco.