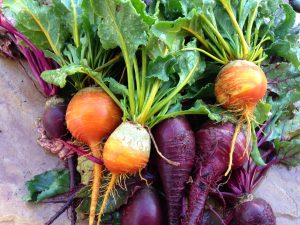 Beets are a crop you plant in early fall, then forget about for a long time.  I planted golden heirlooms this year in addition to the usual blood red variety.  I noticed they were still growing but hadn't taken the time to specifically monitor the roots.   On Sunday I saw that a few were big enough to harvest, so I pulled up the largest ones.  The goldens took my breath away.  Almost too beautiful to eat, we ate them anyway and the sweetness was like no other beet I've tasted.  There's nothing like home grown food to truly appreciate the miracle of gardening and the life cycle of plants.
The end of a life cycle in my home town this past week gave me a opportunity to think about what it means to be "home grown."  My childhood doctor, Dr. Louis Bunting, passed away at the age of 97.  In May he would have been 98.  Like my parents,  he and his wife Marj were pillars of our rural Nebraska town.  As I read over his obituary, I learned many things about Dr. Bunting that I didn't know before.  He served in World War II and was just beginning his medical career in the infancy of antibiotics.  He was an avid pilot, which I knew, but didn't realize that before there were permanent runway lights at our local airport, his wife Marj used to go out and place temporary lights near the runway so he could land.  I knew he delivered my friend Deborah during the night of the 1953 tornado, but didn't have a clue about the other 1200 babies he delivered throughout his career.  I was happy hear that he and Marj were able to travel, particularly after all the years he gave to our community.
The things I remember about him weren't mentioned in his obituary.  I have vivid memories of visiting his office the day my brother pushed me into the corner of a wall and split open the back of my head.  I remember lying on his office table with my grandmother nearby in her black wooly coat as he skillfully stitched up my bloody head.  There were his numerous attempts to remove the warts from my feet and Dr. Bunting's examination after I fell into gravel from the top of a playground slide.  I can still picture the day my brother and I were sent by ourselves for our check-ups and my brother bolted from the waiting room when he found out we had to get shots.  One of my last visits to Dr. Bunting as a patient was to have my ears pierced.  Although my father disapproved of this act by exclaiming that I looked like a gypsy, I was mighty proud of Dr. Bunting's handiwork in the piercing department.
My brother mentioned how touching Dr. Bunting's funeral and graveside ceremony were.  Because of his military service, his family was presented with an American flag.  Additionally, he was honored by a color guard made up of local Legionnaires.  Among that color guard was my 88-year-old father, who "held Old Glory in a moderate breeze."  That's one sight I wish I had witnessed.  When I think of men like my father and Dr. Bunting, I am aware of the great influence they've had on my life and many others.  They've been the gardeners who tended the soil of our small town so their "home grown" crops could thrive.   They're from a generation that quietly devoted their lives to service because it was the noble thing to do.  We could all benefit from a little more of this kind of nobility in our lives.  I, for one, intend to use the rest of my days to see that it happens.