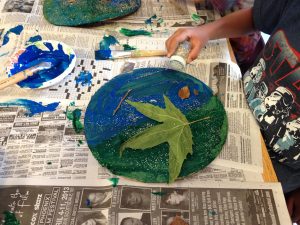 I found another reason to be proud of the Seed this week, we celebrate Earth Day.  At a time when the planet needs informed citizens more than ever, I was disheartened to learn during my Tuesday kids' yoga class that, of my four students, only one had done anything at school to celebrate Earth Day.  The one student attends the Seed.  As we talked further, all of them knew about Earth Day, they just hadn't talked about it or done anything at school.  Something is out of balance when months and months are devoted to standardized testing and not even one day can be devoted to the planet.
At the Seed, Earth Day is like a holiday.  In years past we've picked up trash around the school, made posters to promote earth-friendly habits, created an all-school quilt and dedicated Gwen's Castle, a space on our playground created in memory of a student.  We have built gardens, painted decorative bricks, made recycled art and collected lunch trash to display for raising awareness.  This year we had a concert and a picnic.  The 3s class painted a beautiful blue and green glittery banner for the front of the school exclaiming, "We (heart) Mother Earth!"
One of my favorite parts of this year's Earth Day was receiving a message from an alumni parent.  She forwarded me the Earth Day tweet from her daughter Kelsey who is about to graduate from college.  The message read, "Celebrate life on planet Earth.  Live your life for all it's worth. –MKG"  These words are from one of the few songs I wrote back in the 80s called "Celebrate Life on Planet Earth."  When I feel discouraged about all of the children who aren't celebrating Earth Day in schools, I remember students like Kelsey who, even in her early twenties, is still connected to her Seed roots.  At a time when topics like climate change, increasing incidence of childhood allergies, and the diminishing coral reefs due to more acidic oceans, I hold on to faith in the young people who are just now coming of age.  They are the planetary stewards of tomorrow we've dedicated decades to cultivating, who will sustain the Seed's vision for a peaceful and healthy planet, living their lives for all they're worth.