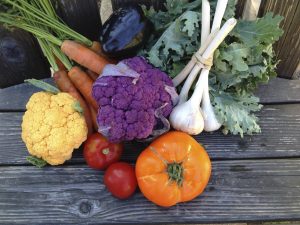 In late July, Bill and I escaped the desert heat and spent nine days in the San Juan Islands.  The islands are tucked between Victoria Island (Canada) and the northernmost part of the Washington state coast.  There are different names for the coastal waterways surrounding the islands, and they are collectively called the Salish Sea.  The area is rich with marine life, including orcas, sea lions, eagles, and seals.  Sailboats are everywhere and the sunsets are beyond words.  Each island has a different personality, some well-populated and others that have little or no human inhabitation.  We stayed on Lopez Island, which is known as the friendly island.  When people drive by in their cars, they generally wave and smile.
Lopez has one small village with a few restaurants, including the Vortex Cafe where we ate almost every day, grocery stores, galleries and shops.  Bicyclists are drawn to Lopez Island because of its relative flatness with open, gently hilly roads.  It has beautiful views in all directions with beaches that vary vastly from one to the next.  It has farms.  Lots of them, beautiful and respectfully living on the land.  One of the first facts we learned about Lopez is that their farmers have agreed not to plant genetically modified (GMO) crops.  The consciousness of the island was not only honoring of each other, but also of the earth.
Over the weekend we took the ferry to San Juan Island, the most heavily populated island.  As luck would have it, we were there for the Saturday farmers' market.  Among the many people we talked to, we chatted with a guy who was growing mushrooms from a straw-filled plastic bag.  The mushrooms poked through the plastic and were harvested right before our eyes.  The produce was like none I've ever seen.  The purple and orange cauliflowers were almost too beautiful to eat.  We purchased as much as we could carry with us, since we'd left our car on the other island, and enjoyed the bounty for several days after.
Writing this, I realize how fortunate we were to take this trip and come face to face the kind of food we did.  As with many events in my life, I was shown what is possible and now my work is to add the experience to the Seed's.  Our school has always worked in possibilities and this is yet one more way of expressing it.  Soon the teachers and children will begin planting their gardens.  I look forward to seeing if we can successfully grow the purple cauliflower heirloom seeds I ordered last week.  They may not reach the San Juan Island quality, but I am certain they will have their unique Seed essence that will make them beautiful in their own way.