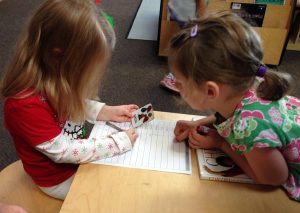 On Tuesday morning Danielle and I dropped off the Seed's 2,361+ items at the Tanner Chapel food pantry in downtown Phoenix.  We were greeted by a friendly man who remembered our school from years past and told us it has been a tough year for the pantry.  Food supplies have been gravely low this season.  Two other strong men joined our unloading procedure and in no time the pantry was packed full of supplies.  They were more than grateful, and as we drove past a few people waiting for food, one on a motorized cart and the other with a makeshift trailer attached to his bicycle, I felt humbled by the whole experience.  We both felt the inclination to do more.
As I thought about this project, it occurred to me that the way we approached it involved a whole lot more than just collecting non-perishable items.  All week long there were conversations, both at school and at home, about feeding hungry people and why they are hungry in the first place.  During a class discussion in the PreK about giving food to people who don't have money to buy it, one child said, "Well, then we should give them wallets!"  Another child had the idea to buy items that could be used to put together a healthy lunch for children.  Service training was evident all around the Seed.
Service training came up on Monday morning as well.  I was conducting an observation in the Preschool 3s class just as the  "library" opened.  Two children at a time were selected to be the "librarians" who sat together at a small table, each with a pencil and class list.  Classmates selected a book to read and then stepped in line to wait to be checked out.  Each student had a library "card," a countertop sample card from a home improvement store decorated with sequins, sparkly things and, of course, each child's name.  This was serious business.  Librarians were given the freedom to mark off names in whatever way suited them.  They took their job to heart, attentively searching for each new patron's name as another child stepped forward.  What I loved was how patient and respectful each child was, often helping the librarian to find their name on the list.  Kindness exuded from these children as they learned to serve and be served by each other.
Although these two situations seemed initially unrelated, it didn't take long to find the common thread.  It has to do with the way the Seed's curriculum is interlaced with experiences that go beyond the activity level.  Underneath, and sometimes right on top of, whatever is being presented to children as a learning experience, there is often a service component.  Whether it's experiencing helping a friend by taking a turn, marking off a name so another person can use a book, or bringing food to school so a hungry person will have a meal, any opportunity to practice service is added to the mix.  It's a practice we put into action year round, not just during the holiday season.  It's the way stewards of the planet roll.