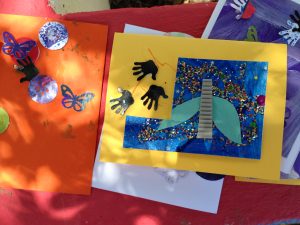 For a community like the Seed, this time of year holds a mixture of emotions.  Kids are excited about summer, just around the corner.  Vacations are planned, artists are looking forward to the summer art camp and a sense of freedom is in the air.  Teachers are scrambling to finish up assessments, write progress reports and put together end-of-year awards.  It's a time when we're glad summer is near, yet feeling the emotions of letting go of another group of children, either to different schools or just the next class.  This time of year buddy groups are getting together for final activities, such as the Toddler 1s and PreK classes, who on Tuesday gathered on the toddler playground to paint with cars (yes, the kind a child can drive, through paint and over paper).  Once the painting was finished, the cars were lined up for a "car wash."  One of the toddlers so attentively cleaned the tires of her car that it looked like she was a pro with lots of experience.  Nearby a card making station was set up and one of the little toddlers said, "We're making cards for Sissy."  A five-year-old worked on her card under a shady treed alongside a pair of toddlers.
Cards came together from all classes and awaited delivery in a sunflower decorated basket, donated by one of the teachers.  They were for Sarah Beth, a previous Seed student and daughter of one of our staff.  While other children were finishing up their school year, she was in the hospital recovering from a tonsillectomy.  I visited Sarah Beth later that day and was happy to deliver over 100 cards to her.  I was also happy she was headed home just after our visit.
It is a simple act, making a card.  Yet these cards held something special.  For one thing, it was just one more thing to ask of the teachers who are already overloaded with end-of-the-year projects.  They all embraced the request without an ounce of hesitation and had them ready within a day.  And the kids went all out, coming up with catchy slogans and colorful textures.  Extra effort went into this batch of cards, knowing that Sarah Beth is visually impaired and would need multi-sensory input to "see" the cards.  The cards were full of soft spongy shapes, corrugated cardboard, felt, sparkly things, smelly soap, shiny crackling butterfly wings and one included a flower cut out of braille paper.  The basket was overflowing with sensory delight.
I look forward to hearing about Sarah Beth's experience of unpacking the basket.  I'm hoping she'll feel all the love that went into those cards by a community that loves her and her family.