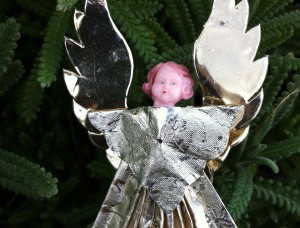 When I recall childhood Christmases, my grandmother was a main character in those memories.  She was my father's mother and lived just a few blocks down the street from our house.  Several  years ago my mother sent me two ornaments that belonged to Grandmother Kenner.  Each December as I unpack them from their protective tissue paper, I remember a magical aspect of the holiday season that had nothing to do with Santa Claus.
Grandmother Kenner was a proper woman and insisted we address her with formality and respect.  I still find it interesting that while we dutifully called her Grandmother Kenner, we always referred to my other grandmother as Pauline.  It all felt perfectly normal to us.  Grandmother Kenner was available and comforting in her properness.  I loved spending time in her warm kitchen, helping her bake special Christmas cookies.  My favorite variety for the duration of childhood, was a German cookie that we lovingly called "dog biscuits."  They were hard, chewy, and gingery.  My love affair with them ended abruptly when, as an adult, I asked for the recipe and discovered how much lard they contained!
Grandmother Kenner had a big, beautiful old house with a wooden staircase.  At Christmas time each grandchild had a handmade felt stocking decorated with tiny beads and sequins, hung on the banister with cut evergreen boughs.  The stockings were arranged in order from the oldest to the youngest and I was close to the top.  The cousins were plentiful, as was the food.  We ate in the dining room at the kids' table, with china and special occasion silverware.  My grandfather sat at the head of the table and carved the turkey.  At dinner we practiced manners and afterwards were sent outside to play in the snow, as we did on most other winter days.
My grandmother was strict and formal in her ways, but I always felt safe and loved.  As I grew older, I witnessed the generosity of her heart, and her presence for her grandchildren, in ways that made life-changing differences.  Her little Christmas angel that now hangs on my tree, is an unassuming relic reminding me to be the kind of grandmother she was.  I'll never be as proper, and my style of being with my grandchildren has a more creative, free form expression.  Yet thanks to her example, I know I've become someone they can always count on for unconditional love.