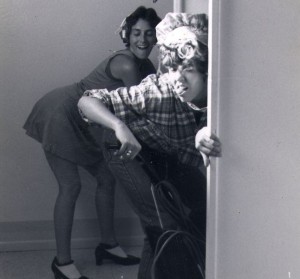 A string of Annes has embellished my life.  Some with the "e" and others without.  A few Annas have been thrown in to make it interesting.  My notorious aunt Ann at 4'10" earned her reputation by regularly smoking cigars.  Nobody messed with her.  I have a niece named Annie and my best friend Annie from college remains close to my heart, even though our lives in Maine and Arizona allow precious little time to see each other.  When the idea to start Awakening Seed was suggested, Annie Pie, now a resident of Patagonia, Arizona, was right there beside me as the school's co-founder.  We had several teachers named Ann at the Seed over the years, along with our beloved Ana from Mexico, who ran the office for over a decade.  There was P. E. teacher Anna, as well as many moms named Ann who have enriched my life in ways I can't even begin to describe.  I have regular Saturday morning conversations with my friend Ann from the yoga studio where I teach, and my eldest daughter's middle name is Anne.
One Anne, in particular, made her mark at the Seed in ways that are still felt to this day.  Anne Baldwin (Wodrich) was the first teacher we hired in 1980 as the Seed expanded.  We arranged for an interview one day and Anne showed up straight from her job at the co-op, covered in flour.  She had her nursing baby in tow and proceed to lie down on the concrete sidewalk to nurse her baby as we conducted the interview.  I hired her on the spot.  Anne's background was special ed, mostly gifted and talented at the time, and she was one of a kind.  She was wacky, creative, and outrageous.  At times we laughed so hard we thought we might burst from hilarity.  In the Seed's early days we had no janitorial service, so the teachers had to clean the bathrooms.  One day we dressed up in costumes, goggles, and other accessories to stage a photo op of the event.  Anne always helped make the best of even the most unpleasant tasks.
Once she had an idea to make a volcano, not with the usual baking soda and vinegar, but with substances that smoked, sputtered, and would probably get one arrested for possessing these days.  She produced one of the Seed's first video productions of Bill Peet's story, The Wump World.  Anne turned her kindergarteners into political activists by having them write letters to Senator Barry Goldwater.  One of my favorites read:  "Dear Senator Goldwater, Please clean up the air or I refuse to breathe it."  She played a significant role in establishing the Seed as a greenhouse for sprouting future stewards of the planet.
Eventually Anne and her family moved to Flagstaff but we kept in touch over the years.  Her passion for teaching and nature remained steadfast, as well as her exuberance for living.  On June 22nd Anne was involved in a hiking accident that took her life.  Those of us who knew her are still trying to make sense of it all.  We never know when our time is up on this planet, and I for one will do my best to live each day as fully as I can, just as my friend Anne did. Her loss leaves a huge gap on my string of Annes and an even bigger gap in my heart.