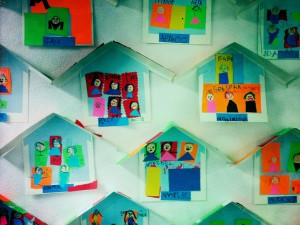 At this time of year many classes are studying families.  Some are human families in their individual houses, and others are creatures that roam the earth.  It's often a beginning-of-the-year topic to get to know each other better.  Children share news about their parents, siblings, cousins and grandparents.  Family pets are high on the list as well.  Learning about each other's family is like opening up a special suitcase filled with life treasures and stories.  None are exactly alike.
We have a school family, too, and it takes awhile to settle in.  Teachers learn how to work together in classrooms and children get to know how it works with friends sharing the same space.  Parents learn how to help with homework and older children become experts at being reading buddies.  School rules are forged in response to each new crop of students.  Some children learn those rules quickly and others need more time.  For a few children, learning how to be at school is a daunting task.  In cases like this, the essence of what the Seed is all about comes forth significantly, especially when all adults in the child's life are working together.
As we help a child find ease at school, we begin by looking for the good, for the evident positive qualities.  Our intention is to hold each child with respect, viewing him or her as perfect and whole "as is."  Rather than thinking the child needs to be fixed or changed, we examine our practices and environment to see how to we can best help the child make  choices that will enhance membership in the school community.  While we simultaneously keep in mind the safety and well being of each Seed family member, we consider challenges and compile a list of potential solutions.  We look at what's already working and determine how we can best use our available resources.  Once we have an idea what we're working with, we come up with a plan and then try it out.
Working this way takes time and lasting solutions are rarely a quick fix.  The plan often undergoes multiple revisions before we settle on the long term approach.  It requires patience, teamwork and a common vision.  In the end, the payoff is that everyone wins.  The child is honored and the staff is reminded why we choose to work in the environment we do.  Parents are grateful for the support and belief in their child, and the school family tree is blessed by the presence of yet another unique seedling thriving among its branches.