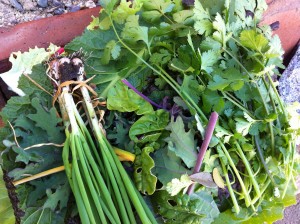 Recently we had friends over for dinner and it was a proud moment to be able to serve a salad completely grown in our garden (minus the feta, cranberries, and dressing).  The bowl contained onions, chard, mustard greens, kale, spinach, cilantro, and lettuce.  I consider it no small privilege to eat a salad like that.  It symbolized what I am trying to do with my life–stay close to the earth, live and eat well, keep it simple, and focus my attention on issues that matter.  I am devoting this year to serving the well being of those around me as I also remember to take care of myself.  It seems like an important time to make personal efforts to live and be in a healthier way.  It was inspiring our first week back at school to see that I'm not the only one thinking this way.
Based on the TV show, Biggest Loser, our assistant director cooked up a plan to motivate the staff to get healthier.  Because it's the Seed, we're calling the plan Biggest Winners!  Involvement is optional and there are several ways to be involved, including logging exercise time, weight loss (pounds or percentage), and eating better.  Participants also have the choice of competing for a cash pool created by everyone adding five dollars for participating.  Each person has a different reason for participating.  One staff member wants to be able to wear all of the pants hanging in her closet.  Another one wants better aerodynamics for bike riding.  Some are only doing the fitness part and others are going for the whole program.  Each person checks in on Thursdays and keeps track of weight, exercise time, type of exercise, and reflects on the kind of food eaten each day.  It's an honor system with built-in accountability.
There was a big buzz around the Seed all last week and I noticed a huge increase in conversations about healthy food choices, exchanging recipes, and advice for wiser nutritional options for favorite calorie-dense foods.  Talk about kinds of exercise and metabolism at various stages of life flowed freely.  Returning back to school after the weekend, I heard several celebratory chats between staff members offering encouragement for pounds lost and recorded exercise time.
Although it's a competition, it feels more like a big support group to help everyone to improve their quality of life.  If we can do that for each other, we are also modeling for children both supportive behavior and healthier living.  Accomplishing that, we are all the biggest winners.