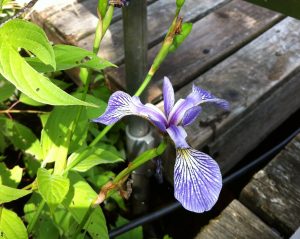 At the lake last Friday I photographed this delicate wild iris blooming at the edge of the dock.  I spent considerable time getting the right angle and lighting.  I'm so glad I did.  By Saturday it was all shriveled up and drying out.   That's the way life is, always in a state of change, sometimes when we hardly notice.
Life at the lake always slows down for me on a daily basis.  It also reveals how rapidly everything changes.  Traveling there with my teenage granddaughters, even at the airport I was reminded of this.  As we claimed our baggage, then hustled onto the tram to retrieve our rental car, each girl was able to haul her own large suitcase and even mine.  I thought of the past ten years of taking this trip with one or both of them, having to rent a smart cart to transport suitcases, car seats, backpacks full of toys, stuffed animals and snacks.  On the three hour drive up to the cabin from Minneapolis, I also realized we've come a long way from the Disney movie soundtracks we used to listen to on that same road.  I can say I'm fairly well updated on contemporary teen hits after last week's exposure.
The movies we watched definitely changed, too.  Gone are the days of year after year viewing The Troll in Central Park.  The most notable one we saw this year was Pregnancy Pact, based on a true story about a group of teen girls who all decided it would be cool to have babies at the same time.  I was actually grateful for this opportunity, as it gave us an excellent chance to talk about choices, responsibilities, and long term implications of decisions we make.  We even got to the part in the conversation when this question arose: What would you do if it happened to me?
Certainly the sameness of previous visits was present, such as trips to the ice cream store, riding the jet ski with Great Grandpa, and catching minnows on the sandbar off one of the small islands.  That part was like some of the older cabins on the lake that you could tell had been in the same families for generations.  I could imagine those families coming up from the cities each summer to enjoy their time together.  However, within those same families in their lake cabins, everything is constantly changing.  Children and grandchildren grow up and gradually an entire new set of family members inhabits those cabins.
Now, back in the desert, looking out at the 4th of July rain in my ever-changing garden, I am making a vow with myself to remember to look beneath the outer layer of life that seems unchanging.  I will pause more often to see details and remember the wild iris in its short life blooming right before my eyes.