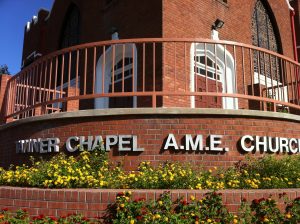 I thank Frederick Douglass for my introduction to the African Methodist Episcopal Church.  Years ago when I was teaching 2nd grade, we examined the life of the famous abolitionist as part of our annual human rights study.  As I read his biography in preparation for my teaching I learned that the AME Church, of which Douglass was a member, has been around since 1787.  Evolving from the Free Africa Society, it was established by Richard Allen, a free Delaware slave, and others.  Although it was primarily in the Northeast and Midwest prior to the Civil War, congregations reached the west coast in the early 1850s.  Their most significant period was during and after the Civil War, although the church, with members such as Rosa Parks, was also extremely active during the Civil Rights Movement.  Tanner Chapel, an AME church and the oldest black church in Arizona, became official in 1899.  Throughout its history, the church has continued its advocacy of the aged and sick, the physically challenged, needy children and their families, and the homeless through its outreach programs.  Their food pantry is a part of that.
In the past two decades, we've had a number of wonderful families who have attended both the school and the church, and out of that our connection with Tanner Chapel's outreach work has grown.  Our summer food drive is an example of how Awakening Seed has supported them.   Located in downtown Phoenix, not far from Chase Ball Park, Tanner Chapel's busy food pantry is dedicated to serving the poor and homeless.  They report that 80% of those taken care of are homeless.
Originally we collected food around Thanksgiving time and Seed families have always been generous in supporting that drive.  Three or four years ago we had the idea to do a summer drive since it's in the off-season when not so many organizations are collecting for food banks.  Our goal each year is to deliver a 1,000 item truckload of non-perishables to the Tanner Chapel food pantry.  So far we're at around 400 and we only have a few days left.  I'm hoping this year we'll again reach that 1,000 mark.  The grateful smiles and appreciative words are enough to make anyone's day…or summer.  If you care to participate, stop by the Seed with a case of ramen, a jar of peanut butter, instant soups or cans of tuna.  You'll help make the day of many hungry folks.  I'm guessing Frederick and Rosa would be pleased as well.