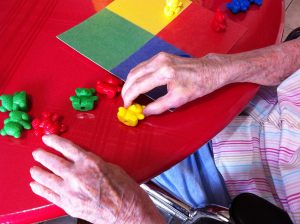 The toddlers' counting bears took a field trip last weekend.  Red, green, yellow and blue plastic bears were loaded up in their tubs and hauled off to my 96-year-old mother-in-law's assisted living home.  The bears were part of some volunteer work my granddaughter is doing to fulfill a high school graduation requirement.  Along with the bears, Granny and her two friends delighted in dressing  baby dolls, stacking colorful graduated cups, knocking over dominoes and tossing soft rings on purple stuffed seals.  Just as with the toddlers at various levels of cognitive and verbal development, the residents responded to the selection of materials with a range of success.  Virginia was eager to try everything and used language to express her delight.  "These  babies are SO CUTE!" she exclaimed as she attached a bib to her baby.  Virginia  was also the star at puzzle assembly.  She breezed through a whole pile of toddler puzzles, while Granny, struggling to even grip a wooden piece, was still searching for the matching space for her first piece by the time Virginia completed her stack.
Fortunately, the variety of activities allowed for everyone to be successful.  Granny had difficulty keeping her focus on most of the tasks but perked right up when we brought out the water color pastels and paint brushes.  She was able to draw a yellow circle for the center of a sun.  I rotated the paper for her as she painstakingly drew each yellow ray.  Once she finished the rays, I sketched in a blue background and placed the paint brush in her ancient hand.  She loved dipping her brush in water and watching the colors come to life on the page.  I hadn't seen her that excited and engaged in a long time.  When she was finished I asked if she wanted her picture in her room.  She responded with a big smile.
After an hour of table time with toddler toys, Virginia asked if she could go to her bed.  Although it was right before lunch, one of the highlights of her day, she said,  "I'm really tired.  I need to take a nap."  This need for rest was not unlike that of our tiniest Seeds who play hard all morning, then most days go agreeably to their beds for an afternoon nap.  Their similar joy in accomplishing small tasks, such as matching the colors of plastic bears with corresponding colored squares, was a lesson in life's way of coming full circle.  Our time with Granny, her friends, and the counting bears taught me that regardless of age, we all need our hands and minds to be busy with tasks that hold our interest and stretch our minds.