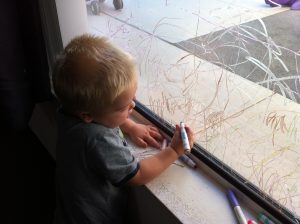 On Wednesday morning I had the pleasure of talking with Kevin, our Preschool 3s teacher of many years, who recently moved to Vietnam to teach English as a second language.  While it appeared that his original intention was to work with adults, Kevin has found himself again teacher three-year-olds.  This time he is employed at an international school which he reports requires the young preschoolers to do a lot of paper and pencil work as part of a highly structured curriculum.  I asked him if he was able to do any of his normal innovative, creative teaching and he replied that he was doing his best.
This story is a contrast to the reflective work we are doing throughout the school this year to ensure that our practices are developmentally appropriate.  For example, during our prep week we read articles and discussed ways to give young children all of the necessary pre-writing skills and practice without giving them worksheets.  The handwriting program we use, Handwriting without Tears, has an array of excellent materials to promote writing.  For example, the children use large wooden shapes on the floor to create roads, stick figures, and geometric designs as a precursor to writing letters.  They form letters with playdough and write them on whiteboards as part of the program.  HWT also has reproducible materials, appropriate for four-year-olds and older.  During our August conversations we discussed how activities at table time in the toddler classes influences the ease with which elementary students learn cursive.  It was a significant realization.
Toward the end of our meeting on writing, I invited the teachers to think of developmentally appropriate ways to accomplish the same skills that are covered on the worksheets.  Already I've seen some creative responses.  In the Toddler 2s, to practice drawing lines from top to bottom, two rows of dots were drawn on the window and children used Crayola window markers to connect the dots.  Of course, they drew lots of other lines, some of them with beautiful grips.  They were excited about drawing on the windows and took their work seriously.  The Preschool 4s turned what could have been a boring white worksheet for refining tripod grips into lovely paintings of stars with watercolored night skies.
I look forward to other innovations to make the art of handwriting also a creative experience.  Who knows?  With all of the sharing opportunities available these days through technology, I'm guessing a few preschoolers in Vietnam soon might be writing on windows, too.