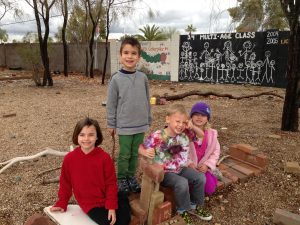 "Winter" in Phoenix is always a random event.  In January we had below freezing temperatures and several pipes blew out from the ice.  Faucet drips turned into icicles and most of the sunflowers in my life were wiped out by the frost.  Within days, it was in the 70s again and it felt like spring was for sure on its way.  Last week, as part of my Wednesday writing work with the 3rd/4th graders, we celebrated the warm weather by planting dozens of sunflower seeds in various places around the playground.  The soil was fairly dry, so we even set up a watering rotation to make sure the plants would have enough moisture to grow.  It certainly seemed like spring was in the air.
Then, with seemingly little warning, "winter" was back.  Just a week after the sunflower seed planting, dark clouds loomed overhead most of the day.  Temperatures dropped and all of a sudden spring felt like winter again.   Puddles of rain water formed in various places on the playground and lunch recess had its share of soggy shoes and "mud accidents."  Two girls were busy transferring their precious water from truck beds to pots, eager to utilize it for important uses.  The incoming storm added an exhilarating backdrop to the voyage of a brick pirate ship created by several children.  They proudly gave me the tour of their ship as heavy clouds closed in.  Before dusk, there was hail and rain in most parts of the valley.  The mood around the school definitely matched the exciting weather patterns.
Rainy days always create their share of challenges, such the drenched clothing items of children who "by accident" land in puddles, or energetic toddlers who are kept inside to avoid spontaneous full body water play.  They add to already stressful driving conditions for parents who have to run into the building with or without their umbrellas.  However, they are also days for celebration, especially when we remember the not-so-far-away blistering summer days ahead.  The rain takes away the dust, turns grass green, and brings an added boost to all seedlings in the growing process, both plants and humans.  It gives young pirates extra bravery for weathering the imaginary high seas.  And hopefully it will be just what our newly planted sunflowers need to make their way skyward through the desert soil. Rainy days have a way of bringing the perfect balance of chaos and inspiration, and this day certainly delivered.