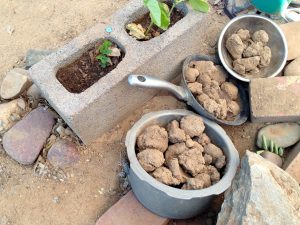 One by one, the elementary classes have dismantled their outdoor areas, stacking up bricks and other materials for  summer storage.  Most people don't really understand the history created in these spaces.  I was recently asked what function the outdoor classrooms serve, if learning went on or it was just for recess.  I can't remember my exact reply, but if I could say it most eloquently, I'd say something like this:  "The outdoor areas are where kids learn about life.  They learn how to be with people, how to get along.  They buy and sell items with their glass blobs.  They create and recreate the ideas of their wildest imaginations.  They build a community and revise it for ten months.  It's where they grow their Seed roots into the earth."
When I noticed the pots of mud balls in the 1st/2nd grade outdoor area, they brought to mind a most extraordinary class, many of whom are about to graduate from high school.  That year, one of my last as a classroom teacher, I had a student named Betty who wanted to be a chef.  She thought it would be a good idea to test out some of her ideas, so she made a little bakery cafe that featured an array of mud pastries.  Her pastries were art from the earth and it was delightful to watch her work with such passion.  She didn't stop with the cafe.  Once she had it running smoothly, she started a catering business, which evolved into a full-fledged "wedding" she staged.  The point of the wedding was to learn about the catering business.  This project went on for several weeks, included most of the class, and the only time I remember getting involved was how to handle the decision of the bride and groom kissing (which did NOT happen, by the way).  I hadn't heard from Betty in awhile until recently when I received her graduation announcement.
In addition to Betty's announcement, one arrived in the mail from Sami, one of Betty's Seed classmates. Not surprisingly, the outdoor area, sometimes referred to as Roxaboxen (named after the book by Alice McLerran) was important to someone else besides Betty.  Sami, as it turns out, wrote about it for her college application essay.  Here's just one section of her exceptional writing:   "Resourcefulness and collaboration became the greatest agents through which we could engineer extraordinary ideas and experience fulfillment through interaction.  Our teachers helped us create the foundations of our homes with rock and desert glass, our parents joined us in our creations and contributed to our society with what we saw as their own investment in our growth, and after meeting the author of the original Roxaboxen it became apparent that our project was one that taught us to share experiences rather than teach them. In a philosophy that has resonated with me in all of my pursuits, the doctrines of our civilization portrayed a sincere appreciation for partnership and contribution as necessary elements of any exceptional learning environment."
Both girls will be graduating and heading off to college in the fall.  I'm certain their paths will take different twists and turns as they each grow into adulthood.  I look forward to seeing how their days of mud pastries and desert glass evolve into their life work.  One thing for sure, I'm counting on great things from both of these extraordinary young women.