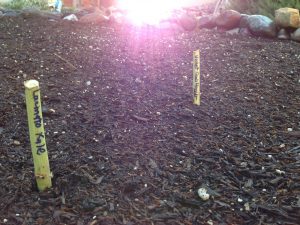 On Sunday a long awaited day arrived, planting day for our fall garden.  Over the last few weeks, we've been pulling out dead sunflowers, removing persistent weeds and adding nutrients to the soil.  I ordered heirloom seeds from a trustworthy company in Chino Valley and even managed to find purple cauliflower heirlooms from a company in Michigan.  This year's garden feels more intentional than usual.
As I began organizing seed packets to determine where each variety would be planted, I noticed that I didn't have anything for row markers.  I considered several options, many of which would mean going to the store, and ended up using short sections of dried sunflower branches.  I wrote the names of each plant on a stick and started the process.  Once a farmer friend told me that sometimes it's good to ask the seeds where they would like to grow, so I took that approach.  It was more intuitive than previous plantings, and I just let each one reveal its requested location.  It occurred to me what a sacred act it is to place seeds in the earth.
While planting our fall garden, I thought of all the gardens at the Seed that have been planted recently or will be soon.  Our Seed gardens feel more intentional this year as well.  Something has shifted for all of us as we deepen our awareness of the interconnection between the earth, our gardens and the food that ends up on our tables.  I also thought of the children, our Seeds, who are simultaneously being nurtured in this process.
For me, this year's garden holds the actual seeds planted in the soil along with impressions of food experiences throughout the year.  Part of the intention is to grow food with the kind of awareness I sensed was present at the farmers' market in the San Juan Islands this past summer.  The food was so beautiful we had to buy it.  Interestingly, one of our Seed parents posted a comment on Facebook this very morning about going to the local farmers' market with her family and seeing food they felt compelled to buy.  She quoted her husband as saying, "They're so beautiful I think it would be a mistake to not get them."  It's this kind of valuing of good food that is part of the intention for our home garden and the gardens here at the Seed.  I'm hopeful that the tiny violet cauliflower seeds will grow into heads as gorgeous and delicious as the ones we spotted in the San Juans.  And quite possibly some of our  collective intentions will sprout in the hearts and minds of future gardeners as they experience the wonder of growing their own food firsthand.