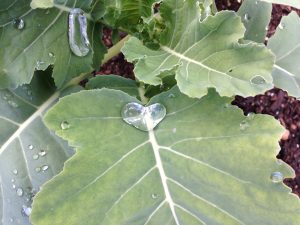 For the past six months or so, I've frequently stumbled upon heart-shaped items in nature.  The most recent was a large drop of water on one of my cauliflower plants.  I watered the garden to try to keep the soil moist, so the plants would be less susceptible to freezing, and noticed some large drops on various plants.  I looked closer and found this beauty, hiding at the base of one of the leaves.  The more I take note of these hearts in nature, the more I see them.  Some might think this is a little bizarre.
Bizarre took on a whole new meaning this week.  On Wednesday, one of our Seed alums tagged me on Facebook to a link listing 10 bizarre schools from around the country (http://www.buzzfeed.com/hillaryreinsberg/10-bizarre-schools-from-around-the-country).  Number 8 on the list, Awakening Seed School.  At first I wasn't too excited to be  included on a list with "bizarre" in the heading.  As I read through the schools, however, my thinking shifted.  First on the list was The Blue School in New York City.  I've been a fan of Blue Man Group since the 1990s when we saw them in person in New York.  We sat close to the stage and were given ponchos to protect us from flying paint, among other things.  I remember them ejecting black marbles into the audience and the grand finale was giant rolls of toilet paper that looked like mounds of paper snow, covering up audience members.
The other schools were quite random and included a fire fighter school, a winter sports academy for students who were both elite athletes and high schoolers, a school called the Walt Disney School and some schools that appeared to have very little structure.  Then there was the Seed.  I don't know what the criteria for selection was or why we were chosen.  This was the description about our school:  "Started in a Phoenix, AZ garage in 1977, Awakening Seed wanted 'children to be honored for who they are.' The school, which runs from pre-school to 5th grade, bans artificial juices and Lunchables. Their mission statement includes the line: 'world peace is possible,' and this first verse of the school song describes the general attitude and curriculum: 'The Seed's not like most other schools / It's a really special place / We dance and sing and do water play / There's a smile on every face.' "
When I looked up the definition of bizarre, words like "unusual, outrageous, whimsically strange, fantastic, weird, odd" came up.  I found out "bizarre" originates from the French word bizzarro meaning "lively, capricious, eccentric."  I think I'll go with whimsically strange, fantastic and lively.  As I read over what was written about the Seed (most of it directly from our website), it struck me as curious that honoring children, wanting to feed them well and believing in the possibility of world peace would be viewed as bizarre.  Others agreed with me.  One of our alumni Seeds (who is currently working on a PhD in neuroeconomics at California Institute of Technology) wrote: "This needs to be part of a Seed ad campaign. 'Come to Awakening Seed! Buzzfeed's eighth bizarrest school in the US for teaching compassion, and that you should eat food, not 'food'!" One of our parents had this to say:  "Proud my kids have been a part of the 8th most bizarre school in the country…where they've learned more than spelling and math. They've grown to understand the importance of community, the environment, leadership and social responsibility, while expressing their creative spirits. Thank you, Mary and Bill, for making it possible for Nora and Brandon to 'Celebrate Life!'"
This list certainly stirred up conversation around the school, as well as online conversations between Seeds past and present.  If it takes being labeled bizarre to stimulate positive attention toward the Seed, then so be it.  We've always been known for working outside the box and I think we'll keep it that way.  At least that's the buzz today.