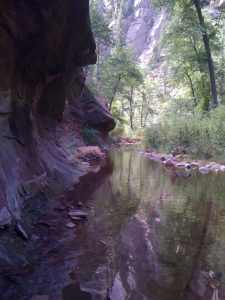 On Friday night we will gather to celebrate the winter solstice. It's the Seed's way of bringing our diverse array of family traditions together to honor the season. The winter solstice has, for many years, been a sacred time for me personally. It's the shortest day of the year, the one with the least amount of external light and the most darkness. The sun rises later and sets earlier than any other day of the year. It's a time when we each have an opportunity to be present more fully to our own inner light. In reaching through darkness on the shortest day, we have a chance to strengthen our ability to see the luminosity around us with greater clarity. It also helps us practice sharing our light when others experience darkness.
In the mid 80s there was a huge famine in Africa. A group of musicians got together and recorded a song called "We Are the World." Written by Michael Jackson and Lionel Richie, it helped raise millions for hunger relief. In addition to raising millions, it raised awareness around the globe that we could do something in one place to help out in another. In the spring of 1985, we made books to sell, held bake sales, and even created bumper stickers to generate funds for the people starving in Africa. Somewhere in the midst of all that activity, a song came to me, "Celebrate Life on Planet Earth."
Songwriting hasn't been a common practice over the years. A few have popped up here and there, often inspired by the words of my own children. One of my favorite early songs, "People and Fishes," was inspired by my daughter Sarah when she was little. It was about differences in the way people, dolphins, whales and fishes breathe. "Celebrate Life" wrote itself. I just showed up with my guitar one day and it was there.
Over the years the song has been a part of numerous events at the Seed. We've sung it at Monday meetings, at our Thanksgiving feast and even at the end of other solstice performances. In many ways it's come to symbolize what the school is all about. As we prepare for our solstice celebration with this song as its theme, what comes to me is how the Seed is about community and a group effort. It's not about one person or one song, it's about a collective vision of what one small school can do to make a difference. I know that all of you have certainly made a difference in my life. In honor of the Seed and the season, I give you the words to "Celebrate Life on Planet Earth."
Celebrate Life On Planet Earth
Rivers and canyons,
birds of the air
Forests and mountains,
plants everywhere
Deserts and oceans,
wide open space
These make our Earth a special place
Celebrate life on Planet Earth
This is the home of our human birth
Celebrate love on Planet Earth
Live your life for all it's worth
People together, people alone
Babies and children, adults who are grown
Some without food and some who can share
Each with a heart that needs love and care
Celebrate life on Planet Earth
This is the home of our human birth
Celebrate love on Planet Earth
Live your life for all it's worth
Now is the time we all have to give
Open our hearts so the Earth can live
To all living creatures under the sun
We give our lives so we can be one
Celebrate life on Planet Earth
This is the home of our human birth
Celebrate love on Planet Earth
Live your life for all it's worth