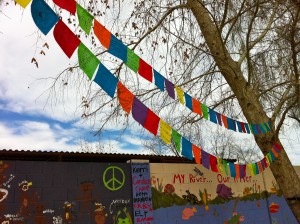 On Friday afternoon I gathered up the prayer flags we decorated at Erma's celebration of life and hung them between two trees at the far end of the playground.  As I climbed the ladder to string them in the trees, two of the first grade girls wandered up and asked about the flags and what I was doing.  I told them that my teacher who gave me the idea to start the school died three weeks ago.  I said we had a celebration of her life on Sunday and we made the little flags to remember her.  I added that people wrote or drew wishes and prayers for her on the flags and when they flapped in the wind, the wind carried the wishes off into the sky.  The girls asked a few more questions about Erma and I did my best to explain how much she loved children, and how happy she was about the Seed.  There was a pause in the conversation and then one of the girls said, "I wish she could see us."
The girls eventually wandered off, leaving me to finish the tenuous work of climbing the not-quite-tall-enough ladder to place the flags securely among the branches.  When the job was done, I sat in the grass for a bit to savor the moment, as clouds moved in and Erma's colorful flags danced in the wind.  I felt her presence more than ever and knew she wasn't far away.  The child's words fluttered repeatedly through my mind, like the flags enjoying their first moments in the breeze.
In the weeks since she passed on, I've felt a renewed sense of purpose for my work as the Seed's leader.  Although some days are challenging and push me to my limits, I know it's the right path to continue.  For whatever reason, my connection to Erma has deepened since her passing.  I sense her essence outside on the playground, in the gardens, and as I walk down the hallways during nap time.  Her presence has shaped the way I respond to life, and I hear her each time I listen to my inner voice.  In her absence, the life lessons she offered continue to manifest steadily.
Erma worked tirelessly till the end of her life, and I will do the same.  As I continue the work she started by planting a thought-seed in my mind, I know she'll be watching over what grows in the heart of each one of us who is a part of Awakening Seed.  She is our protector and guardian angel.  For my young friend who said, "I wish she could see us," I assure you that your wish has already come true.