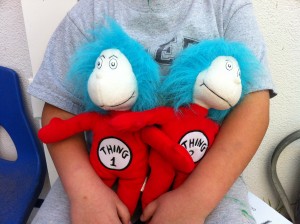 Last Friday was the 108th birthday anniversary of Dr. Seuss.  Born on March 2, 1904, Theodor Seuss  Geisel was the author of books that date back to my childhood.  I was six years old when The Cat in the Hat was written.  I don't remember having a favorite Dr. Seuss story but his books always seemed present in my life.  They were important books to me as a teacher, particularly when I taught emergent readers in first and second grades.  His rhymes made learning to read a fun, exciting adventure.  The predictable language gave kids just enough of a hint about the story to take an educated guess about which word was next.  Dr. Seuss was prolific and his writings included an irreverent cat with two sidekicks, colored fish, a unique breakfast of green eggs and ham, and the Once-ler who needed a lesson in sustainability long before it was a popular topic.   In rhyming verse he created the Grinch who, in the words of one of our kindergarteners, "didn't have enough love."
As a child I loved the antics of the Cat in the Hat.  I appreciated the way he bent the rules, doing all sorts of unacceptable things with Thing One and Thing Two cleaning up after him in the knick of time before the mom came home. I related to his creativity in the unique moments (of childhood for me) when no adults were around.  I loved the wackiness of Dr. Seuss's writing and although I've never been a big fan of rhyming verse, he always managed to pull it off masterfully.  Of all his books, The Lorax is by far my favorite.  His foresight about overuse of natural resources and the responsibility we have to take care of Planet Earth, were well ahead of his times.
Each time I read The Lorax, the child in the book reminds me of every student who comes through the Seed.  Part of the Seed's mission has always been to promote planetary stewardship.  Like the Lorax who speaks for the trees, we've devoted the past three and a half decades to inspiring children to use their voices on behalf of our earthly home.  In the final pages of The Lorax, even the Once-ler realizes the significance of each of us doing our part.  His last words to the child express what we all must do:  "Now that you're here, the word of the Lorax seems perfectly clear.  UNLESS someone like you cares a whole awful lot, nothing is going to get better.  It's not."  We can all say thanks to Dr. Seuss, for caring enough to write such delightful books that not only delight us, but also educate our hearts.